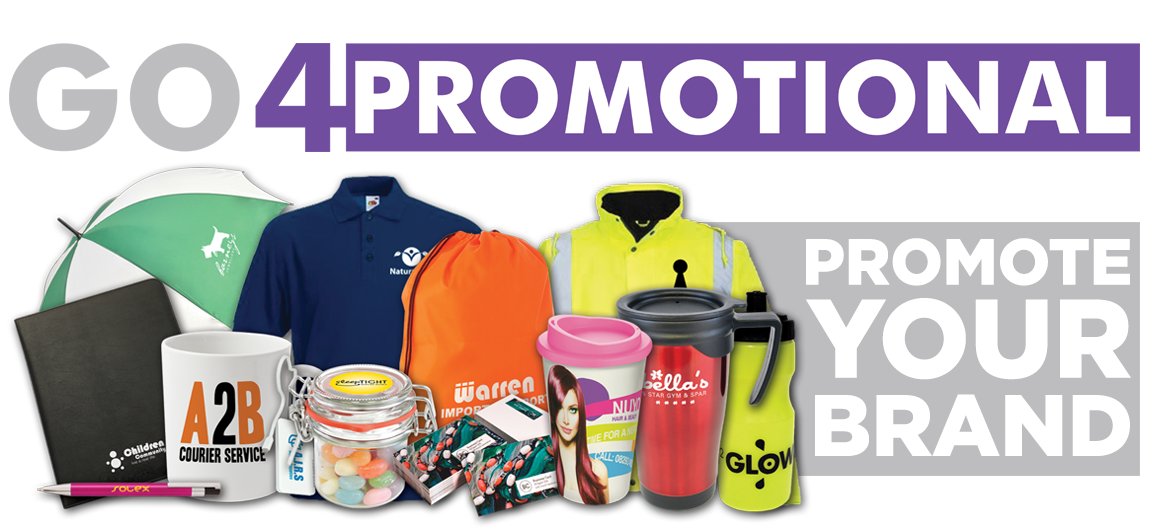 Go 4 Promotional are suppliers of Promotional Merchandise, Printed Business Gifts, Branded Promotional Items and printed corporate merchandise based in Mansfield Nottinghamshire. We work with a number of companies large and small within the Mansfield, Nottinghamshire and East Midlands region and also large Nationwide companies are a young and ambitious company bringing together a wealth of experience in the promotional products and gifts sector. Our customer service and prices for promotional merchandise are amongst the best you will find in the sector.
We are part of the Go 4 Group of companies and pride ourselves on our friendly and professional service which is individually tailored to each of our customers, we are always on hand to give helpful advice on your next promotional campaign however big or small it may be.
We have over 10,000 products available from UK and Worldwide suppliers which you can view on our product catalogue website, here you will find a huge range of promotional items including our best selling products from the vast range of promotional items that we are able to supply to help you promote your brand. Our friendly and experienced team will ensure that you have all the information you need to make the best decisions about your promotional merchandise, to achieve your company's commercial objectives and make your advertising budget go further.
Promotional product giveaways are a tried and tested method of promoting your business or brand, developing great customer loyalty and for generating new leads. Whether its a pen, mug, notepad, USB stick etc most people who receive a promotional giveaway are reported to still have it on their desk, or in use for more than 2 years. This makes branded promotional merchandise is a great way to get your logo or contact details in front of your customers and keep you in the forefront of their mind.
We offer bespoke artwork solutions via our Art and Design Department, this includes amending existing artwork, designing digital and printed media, graphics and logos, adding a web address to your existing artwork or completely re-drawing your logo into a print ready format.
If you cannot find what you are looking for on this website please contact us, we are always on hand to help out and aim to respond to all enquiries within 24 hours.
What Our Customers say about Go 4 Promotional
I have used Go 4 Promotional whilst at two different companies and they have always provided the best customer service and products that I could ask for. I work in People teams (HR) and I order a lot of merch for company branding and internal events, Go 4 Promotional have always had friendly, speedy communication with me, great with helping with designs and getting me what I want, quality products and quick delivery even when I have tight deadlines. I couldn't fault the service I've received from them and I'd highly recommend!
Quick order, smooth process and helpful staff. Product delivered ahead of schedule and good quality. Will use again.
always prompt, full of ideas and incredibly well priced
Our notebooks arrived quickly, in good condition, and we were kept up to date about delivery times throughout.
Really professional service, great ideas too! Wouldn't hesitate to recommend. Amy has gone above and beyond helping us with all our promotions and printing.
I use them for all of my printing, and always get the quotes and eta within minutes! I have never had them fail to deliver on time, and are the cheapest in the area especially when printing in bulk.
Had a good selection to choose from Selected my goods Delivered on time Good quality No hassle, great service
Always an absolute pleasure to deal with, and goes beyond our expectations to give us new and interesting ideas. I've no hesitation at all in recommending Go4!
A very efficient company who liten toyour needs a doeverthing they can to meet them and ata good price